When:
2020-06-11T00:00:00-06:00
2020-06-12T00:00:00-06:00
Where:
Virtual Webinar
N/A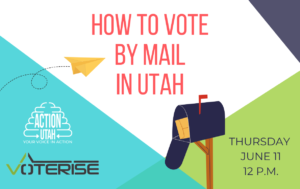 Confused on how to vote by mail? Learn the ins and outs of mail-in ballot voting and common misconceptions and mistakes that individuals often make with mail-in ballots in Utah. With the help of Daniel Wade from the Weber County Elections Office and Hope Zitting-Goeckeritz from Voterise, Action Utah will review how to fill out and cast a mail-in ballot and answer your questions on voting by mail in a Facebook Live event to help you cast your ballot successfully for the upcoming Primary Election (and beyond) in Utah. This event is co-sponsored by Voterise.