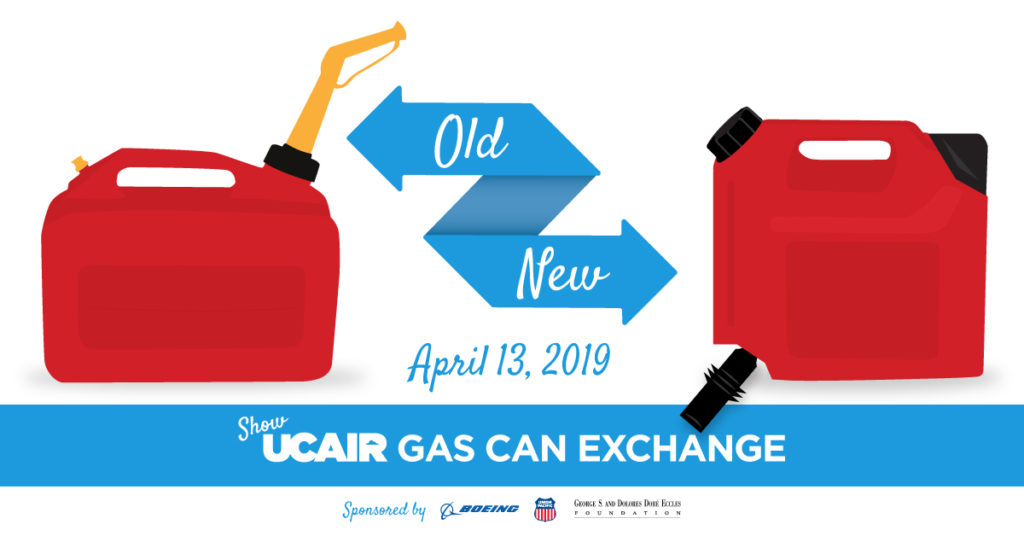 UCAIR has partnered with Boeing, Union Pacific and the George S. and Dolores Doré Eccles Foundation to launch the ShowUCAIR Gas Can Exchange program. The Exchange is a free program that is open to all residents of non-attainment counties in Utah to exchange their old gas can for a new Environmental Protection Agency (EPA) compliant gas can to help reduce emissions and improve Utah's air quality. All gas cans will be exchanged for new 2+ and 5 gallon SureCan gas cans.
** This Exchange will operate on a first-come, first-serve basis. **

When: Saturday, April 13, at 8 a.m.

Where:
Boeing
1215 North 2200 West
Salt Lake City, UT 84116

Rules:

All gas cans brought to the exchange must be completely empty
A limit of five gas cans per household will be eligible for the exchange
You must hand in a pre-EPA standard gas can to receive a new EPA-compliant gas can
---
During the 2015 ShowUCAIR Gas Can Exchange, 4,688 old gas cans were exchanged resulting in emission reduction equivalent to taking 540 cars off the road per day over the five-year-life span of the gas can (DAQ). In 2015, DAQ scientists estimated that there were 772,000 gas cans in PM 2.5 non-attainment areas which produced roughly 2.9 tons of VOC emission each day. The goal of the ShowUCAIR Gas Can Exchange program is to take another 1,000 of these pre-EPA standard gas cans out of commission and replace them with new, EPA-compliant gas cans for a cleaner, healthier Utah.
Old Gas Cans vs. New Gas Cans
Prior to 2009, portable fuel containers had volatile organic compound (VOC) emissions of 1.5 grams per gallon per day. As of 2009, the EPA requires standard limits of emissions from fuel containers to 0.38 grams of VOCs per gallon per day — a decrease of 75 percent. The new EPA-compliant gas cans emit 78 percent less benzene — a hazardous carcinogen — and reduce emission permeation of VOCs.
A Major Source of Smog-Forming Pollution
Pre-EPA standard gas cans contribute to VOC emissions in the following ways:

Permeation of vapors through walls of containers

Old: 1.2 grams per gallon per day versus New: 0.3 grams/gallon/day – based on scientific experiment used to measure permeation

Escaping fumes while fuel is being dispensed
Spillage and overfilling as fuel is being poured
Spillage and evaporation through secondary vent holes
Evaporation through inadequately capped spouts
These last four emissions can be hard to quantify, but the EPA estimates one can emits around eight pounds of VOCs each year through spills and vaporization.
How Do the New Cans Help?
The ShowUCAIR Gas Can Exchange program will offer new EPA-compliant gas cans that are equipped with the following improvements:

Thicker walls to reduce vapor permeation
Automatic closing feature
Prevents leaking vapors when can is not in use
Protects children from ingestion or accidental spillage
Automatic shut-off feature to prevent overfilling
Single venting hole to stop fumes from seeping into the air (note that if you have a secondary venting hole in your gas can it is a pre-EPA standard gas can)
Keeping Gas Cans in Your Garage
EPA research indicates that the level of VOCs indoors is consistently higher, up to 10 times more than the level of VOCs outdoors. The most effective way to limit VOC's indoors is to limit the potential sources. People with respiratory problems such as asthma, young children, elderly and people with heightened sensitivity to chemicals may be more susceptible to irritation and illness from VOCs.