UCAIR Leaf Blower Exchange
For those who have registered, please do not go to a metal recycler until you receive an email with the subject line "You're Invited to Recycle Your Leaf Blower!" Only the first 500 individuals will receive this email.

Due to an overwhelming response, we are no longer accepting registrations and have closed the waitlist.

If you would like to receive updates about future rounds of this program or our other rebate and exchange programs, we invite you to sign up for emails.
Did you know gas-powered yard tools, including 2-stroke leaf blowers, emit a staggering 8 tons of volatile organic compounds (VOCs) daily in the Wasatch Front? That's even more than the combined emissions from all five Salt Lake area oil refineries! In fact, using a gas-powered leaf blower for just one hour releases as much pollution as driving from Ogden, UT to Disneyland – a whopping 727 miles.
UCAIR is partnering with Union Pacific to tackle this pollution source head-on. This year, we've set a goal to exchange 500 gas-powered leaf blowers for cleaner, battery-powered models, making a direct positive impact on our local air quality. 
By participating, you're not only receiving a zero-cost upgrade to your equipment, but you are also playing a part in our bigger mission for better health, a better economy, and better overall quality of life for all Utahns!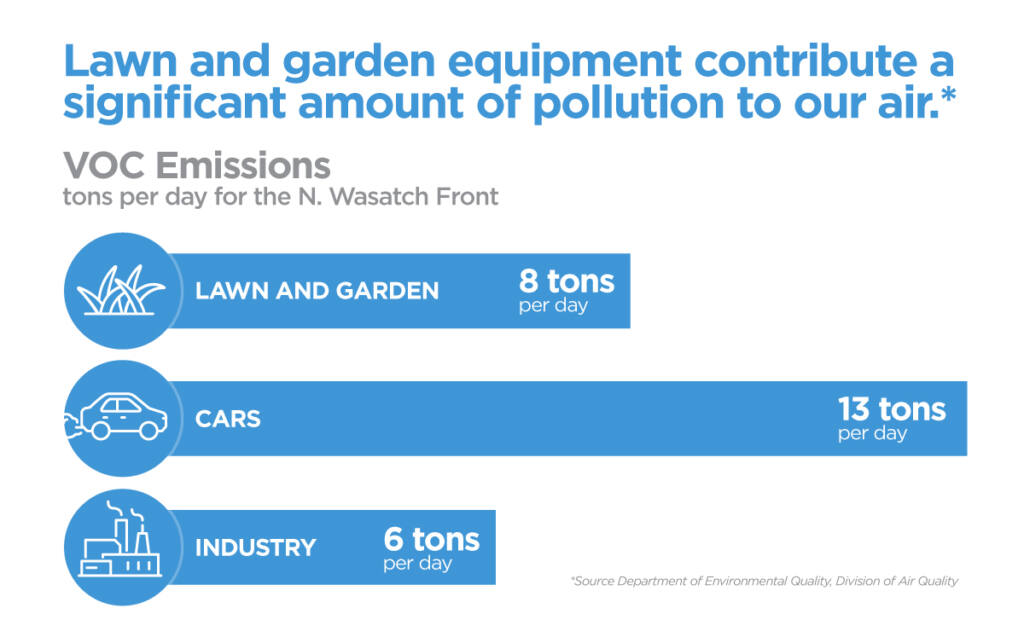 Battery-powered leaf blowers offer an emission-free lawn care experience, giving you all the power without the air pollution.
Avoid inhaling harmful emissions and protect the lungs of children, elderly and the vulnerable in your neighborhood.
After recycling your gas-powered leaf blower, you will receive a brand-new, battery-powered leaf blower with a battery & charger ($200 value) at no cost to you!
Commuter e-bikes are built for everyday comfort and are road-focused for navigating urban landscapes. They have a casual yet mildly active riding position which allows you to maintain control and efficiency without being in an aggressive seating position. As the name implies, these bikes are perfect for those looking to use an e-bike for their daily commute.
Need an option that transitions from paved paths to mountain trails? Some e-bikes in this category, like the Summit, are designed to transition well from a commuter bike during the week to a mountain bike on the weekend.
This program offers 5 eligible e-bike models in the commuter category:
Register: Complete the registration form provided below to indicate your interest in the program. Do not recycle your leaf blower or visit a metal recycler until your registration has been confirmed by UCAIR.
Check Your Email: Wait for an email from UCAIR approving your participation in the exchange and providing further instructions. Please allow 3-5 business days for this email to arrive in your inbox.
Recycle: Visit one of the participating metal recyclers, listed below, to recycle your current gas-powered leaf blower.

You must remove gas & oil before recycling. Used oil can be taken to auto shops such as AutoZone or O'Reilly. Leftover gas must be disposed of at a landfill or household hazardous waste location. Your gas-powered leaf blower will not be accepted for recycling with gas and/or oil.

Receive Recycling Ticket: Upon recycling, ask for a UCAIR recycling ticket. This ticket will be marked with a unique identification number. Keep this safe!
Claim Voucher: Scan the QR code on your recycling ticket or click here to access the Voucher Request Form. Enter your unique ticket number to claim your new leaf blower. 
Await Confirmation: Once your voucher is processed, you'll receive an email with details on when and where to pick up your new battery-powered leaf blower.
Collect Your New Leaf Blower: Visit the specified distribution location during one of the provided time windows in your confirmation email to collect your new leaf blower.
Enjoy: Power up your new battery-powered leaf blower and experience a cleaner lawn care experience!
Please Note: Leaf blowers for this year's exchange will be issued on a first-come, first-served basis to the first 500 eligible participants who register and recycle their current gas-powered leaf blower. This program is limited to one exchange per household. Do not take your gas-powered leaf blower to a landfill or you will not receive a voucher for a new leaf blower.
Participating Metal Recyclers
3150 W 900 S, Salt Lake City
205 W 3300 S, Salt Lake City
6235 S Redwood Road, Taylorsville
Outside of Salt Lake County:
We would also like to give a special thanks to the following partners for their support: