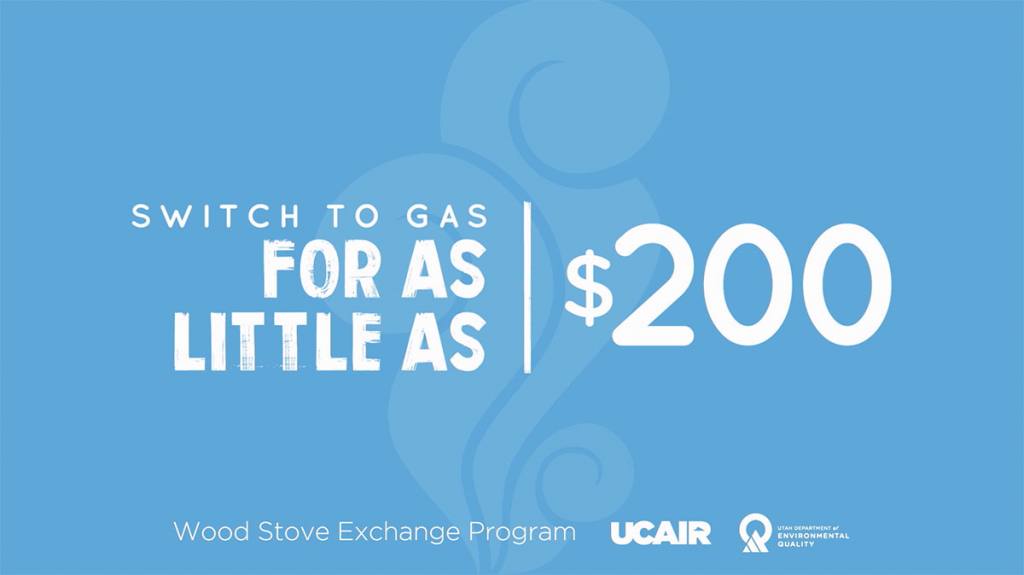 When it comes to achieving better air quality, often we think that means driving less. That's absolutely right. What may not come to mind right away, though, is something right inside our homes.
Wood burning stoves are a significant source of air pollution, negatively impacting individuals' personal health and the environment. Particles that make up the smoke and soot from wood-burning stoves can cause breathing difficulties–and sometimes permanent lung damage–for those who inhale the smoke. Especially during the cold winter months, smoke from the wood-burning stoves gets trapped with other air pollutants resulting in health-threatening inversions. In fact, wood burning stoves can cause a mini-inversion within neighborhoods.
To combat this challenge, the Utah Department of Environmental Air Quality (DEQ) and the Utah Clean Air Partnership (UCAIR) is launching the Wood Stove Conversion Assistance Program on Oct. 22. The program was developed to incentivize residents to convert their fireplace or wood stove into a natural gas or propane device.
Beginning this fall DEQ will award up to $3,800 to qualified individuals or families to exchange their wood-burning stove or convert their fireplace to natural gas or propane. Not only will the exchange contribute to better air quality, but will also be a convenient replacement for wood-burning.
Financial incentives are available for homeowners who reside in Cache, Davis, Salt Lake, Utah and Weber counties, along with portions of Box Elder and Tooele counties who wish to:
● Exchange an operational wood stove (including pellet) for a gas stove (natural gas or propane);
● Convert a fireplace to a gas fireplace (natural gas or propane);
● Exchange an operational uncertified wood stove for an EPA certified wood stove; or
● Turn in their operational wood stove or insert for recycling.
To learn more about the exchange and to see if you are eligible to apply, go to the DEQ site.