At the August UCAIR Partners Meeting we had a great presentation from Angelo Papastamos, Transportation Planning Manager from Utah Department of Transportation reviewing the Travelwise program. Then we had an air quality update from DAQ director, Bryce Bird.
Travelwise Program Overview – Angelo Papastamos, UDOT – Travelwise
The Travelwise program started a couple years before UCAIR's inception. Travelwise is a simple program to get people out of their single passenger vehicles. It has seen great successes and some challenges throughout the years. Travelwise initially received a 20-million-dollar grant, and with matching funds, the program commenced with 32 million dollars which launched 161 projects including: bike share stations, repair stations, shelters for bikes, multi-use paths, lighting of pathways, and more. The moto of air quality has increasingly improved in recent years. When Travelwise first started, Air Quality was the issue. Since then, Travelwise has evolved into adding mobility and recently there is a strong emphasis on health. In the last three or four years, great partnerships have been formed with healthcare groups and they have been introduced to the transit world.
The ultimate goal of the Travelwise program is to bring about and build healthy communities. As we all know during COVID-19 things changed. We saw that people needed to get out of their homes more. During this time, UDOT launched a campaign surrounding active transportation and teleworking. A few videos were launched in relation to active transportation. See one video highlight here. As a direct impact of this campaign release, active transportation greatly increased in 2020 and continued to increase steadily in 2021.
As a result of 2021 legislation passed and Governor Cox's leadership, "surge teleworking" was implemented in 2021. "Surge teleworking" is defined as an employee who temporarily stays at home to telework on an air quality mandatory action day or a special circumstance. UDOT has tracked the amount of 2021 surge days. Here is a brief review: 35 out of the 57 workdays from June 1st, 2021-August 19th, 2021, were surge days (mandatory action days). That is 61% of summer workdays so far. It has become apparent that teleworking is here to stay. During COVID-19, UDOT had about 30-40% employees teleworking. Going forward, UDOT is trying to achieve the same goal as Governor Cox's goal with 90% of employees telework during surge days.
The ongoing partnership with UDOT & UCAIR is very beneficial and we hope to see this and more partnerships continuing to implement Travelwise goals.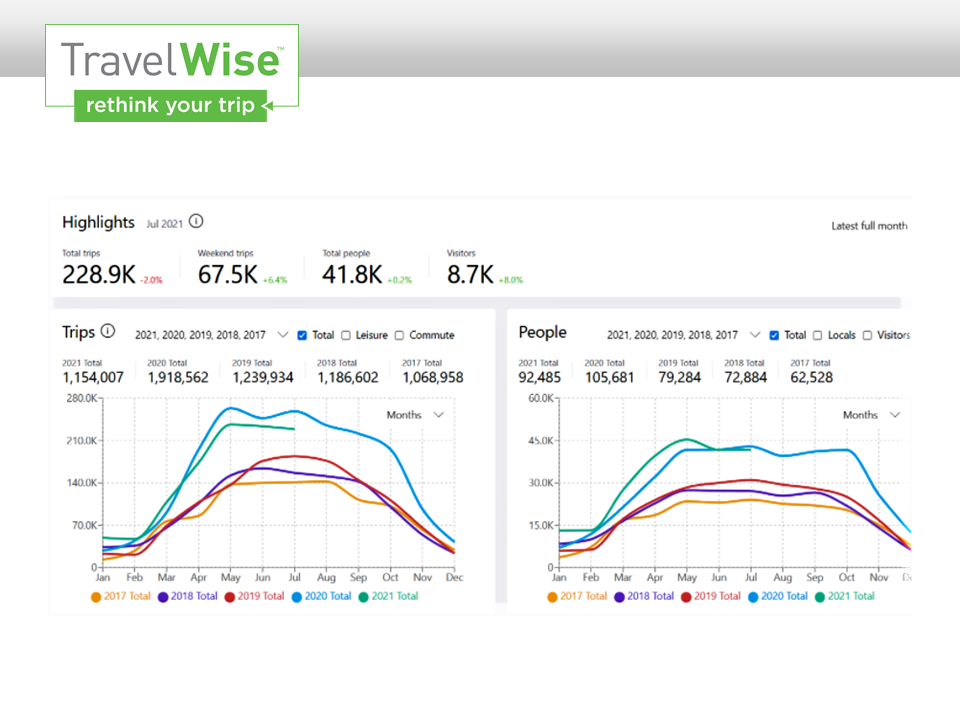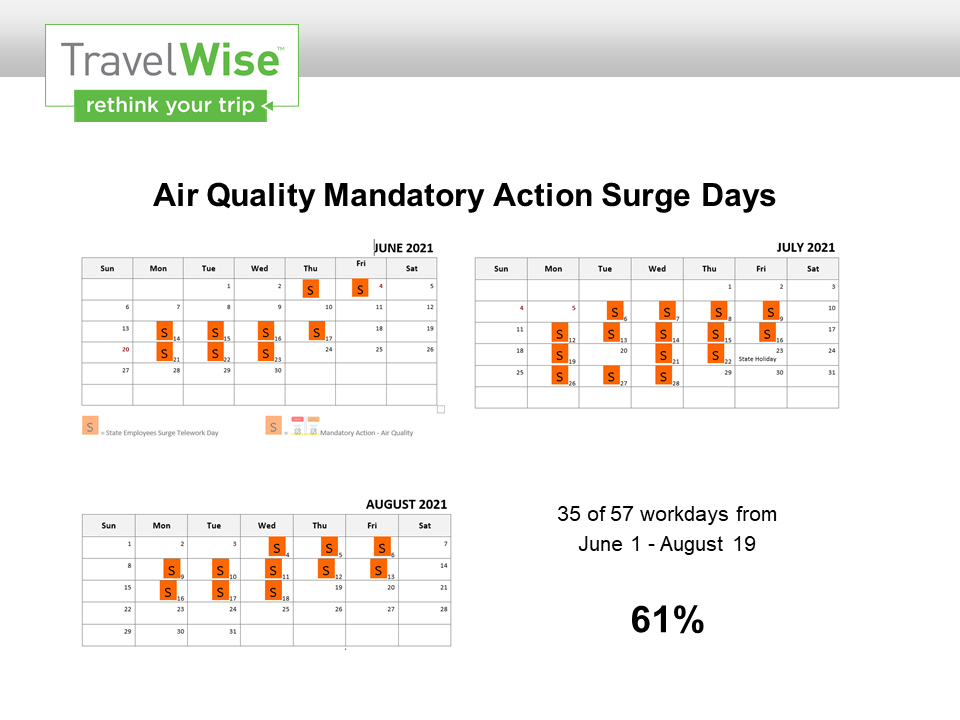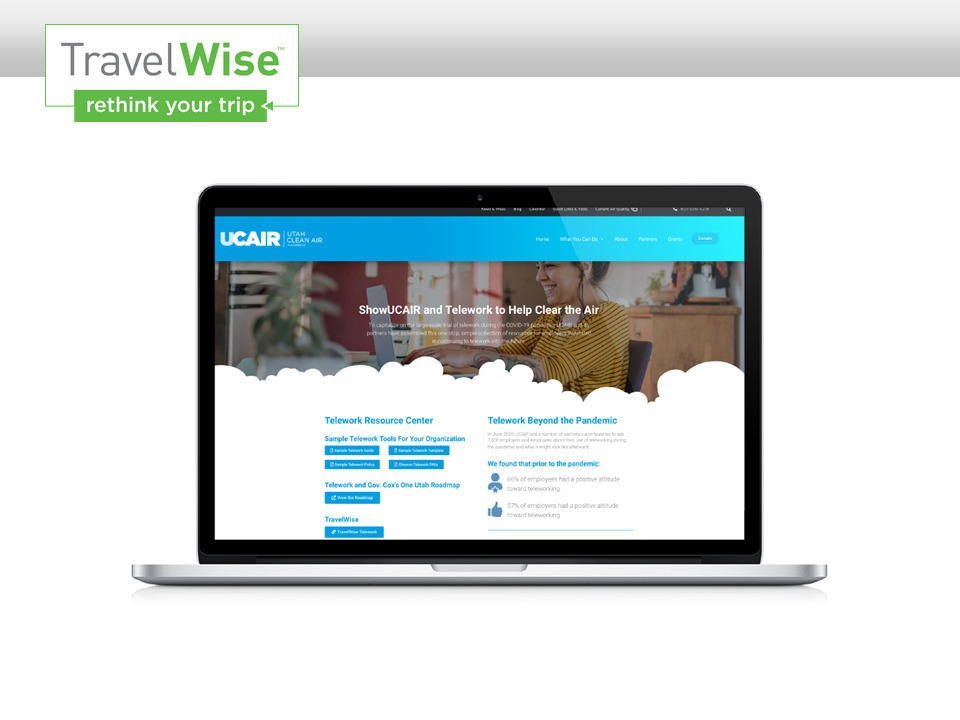 Division of Air Quality & Smoke Update – Bryce Bird, Utah's Division of Air Quality
This month, Bryce reviewed the fire.airnow.gov website. In the last couple of weeks, Utah has witnessed heavy smoke from the fires in California. Utah has seen air quality index values well into the red on recent days. The fires in California are currently in low containment and may continue to burn into October. Additionally, there have been many ozone days this summer. Most of the bad air days Utah saw in June, July and August were caused by ozone and worsened by the fires. This summer's ozone values have had a strong diurnal value that peak in the afternoons and continue into those evenings.
During these times when we can't control those values we will need to do our part to keep our families and those sensitive to these conditions safe.
Partners Roundtable – UCAIR Partners:
Following the presentation, partners shared what projects and initiatives they are currently working on. These included:
Michelle Brown, Department of Government Operations, DGO: Since 2020, the eligible work from home positions is now at 9,303. Long-term teleworking is still going strong, and the governor's office has a new way to track the success that we will report on in the future.
Kim Frost, UCAIR: Our next meeting will be on air quality and water quality and how poor air quality, and the drought are linked. If anyone has any questions for that panel, please feel free to reach out.