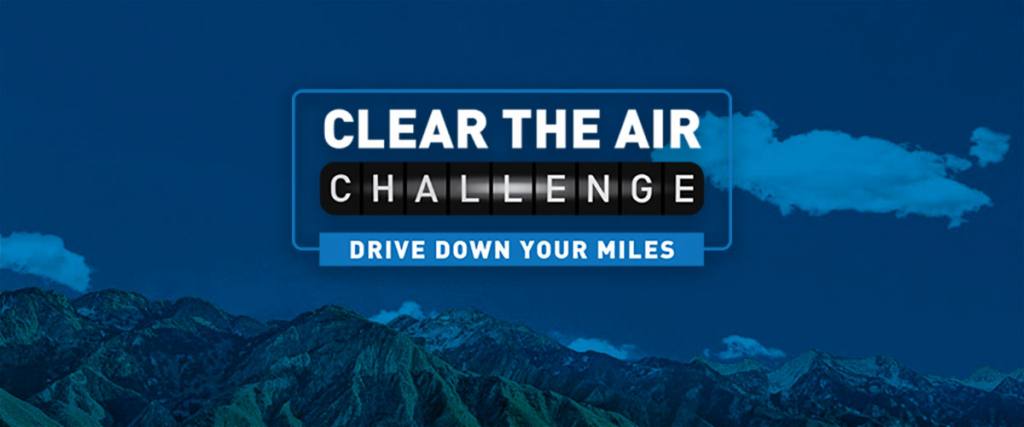 February kicked off the 10th annual Clear the Air Challenge to drive down miles, reduce emissions and eliminate single-occupant trips to promote cleaner and healthier air in Utah. If you haven't already joined the Challenge, create a team and start earning points by implementing these TravelWise strategies into your everyday routine. There's still time to make a difference!
Carpooling: If you carpool, that's one less car on the road emitting PM 2.5 pollutants into the air we breathe. Overall, carpoolers are shown to have less commuter-related stress, improved morale and greater productivity at work. See if you can find a carpooling buddy through the TravelWise Tracker and UTA's RideShare Program to get you started.
Active Transportation: Walking or riding your bicycle to your destination is a great way to promote physical wellness, as well as a healthier community. Those who use active transportation will save money on fuel and spend less time in traffic congestion all while reducing emissions by eliminating vehicle trips.
Public Transportation: Studies show that transit users take 30 percent more steps each day than those who rely on their cars. Using public transportation will ultimately save you money on gas, parking and car maintenance. Utah Transit Authority has a trip planner and a route finder to help you find your best options.
Trip Chaining: One of the easiest ways to save time and money is to group errands together to conserve gas and reduce trips. If you know you will need to make several trips, combine them into one to spend less time between destinations. Chaining trips will even decrease emissions by helping to avoid cold starts and related emission spikes.
Skip the Trip: A skipped trip in your vehicle means cleaner air for us all. Avoid unnecessary trips throughout your week by prepping lunches ahead of time, watching a movie at home versus going to the theater, and staying in and cooking dinner at home instead of going out to eat.
Plan Ahead: Always search for and choose the most direct route for your trips. The UDOT Traffic website and mobile app allow you to see current traffic and road conditions all over the state. By avoiding problem areas, taking transit, changing routes or altering travel times, you can relieve traffic congestion and reduce your vehicle emissions.
Alternative Work Schedules: Adjusting your daily commute so you're on the road less during congested times of the day can help you spend less time in your car and more time with your family and friends. Not to mention, alternative work schedules also help everyone who can't change their travel time by reducing traffic congestion and promoting healthier air for us all.
Teleworking: Working remotely is a great way to reduce vehicle emissions and get things done safely and effectively without the hassle of driving back and forth from place to place. Teleworking will allow you to spend more time being productive and less time stuck in traffic, ultimately improving our air quality.
Join the Clear the Air Challenge and help improve air quality in Utah by driving less and driving smarter. When you reduce your emissions, you are improving health, environmental conditions and quality of life in your community. Additionally, you'll decrease traffic congestion, reduce energy consumption and save money. If all Utahns work together to make these small changes to our current routines, we can make a huge difference in improving the air we breathe.