We're blessed with a beautiful four-season climate in Utah, but switching seasons can take a lot of work! Your checklist of fall chores likely includes:
winterizing your sprinkler system,
pruning trees and shrubs,
planting bulbs,
moving or covering outdoor furniture,
and of course, clearing up falling leaves.
Did you realize you can do all these things while doing your part for Utah's air? You can affect air quality by switching to electric lawn tools. Electric leaf blowers make fall yard work easier, and even a little more fun. They're also much better for the air than their gas-powered counterparts.
The tiny two-stroke engines in gas-powered lawn tools put a lot of emissions in the air. It may be more than you think. Utahns used 18 million gallons of gas on lawn equipment in 2020. According to the Utah Department of Environmental Quality, lawn equipment in Northern Utah contributes more VOCs (volatile organic compounds) to the airshed each day than industry sources (like manufacturing plants, refineries, etc.).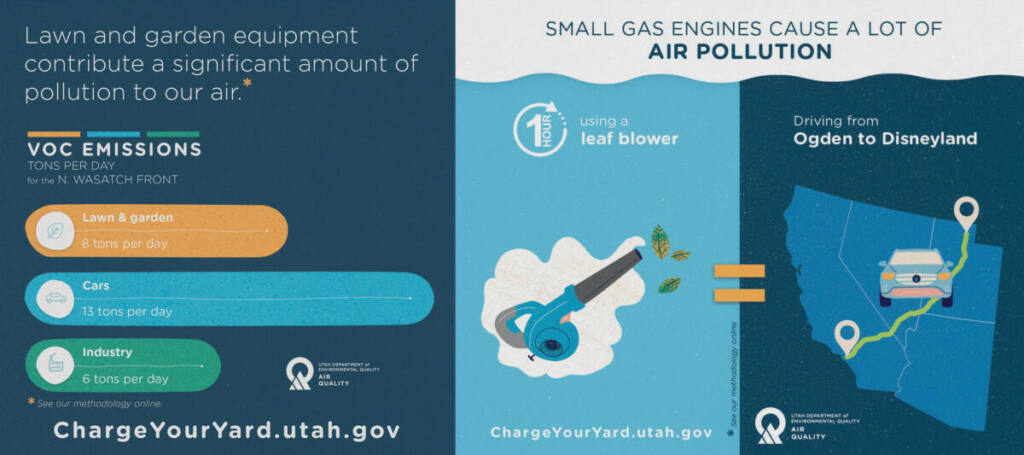 Using a gas leaf blower for one hour is similar in emissions to driving a car from Ogden to Disneyland! Furthermore, vehicles have emissions control systems. The small, inexpensive engines in lawn equipment don't usually have emission controls.
Electric motors are a great alternative, and they're not just for leaf blowers. Electric string trimmers, hedge trimmers, chainsaws, and tillers are also available.
Besides having zero emissions, electric leaf blowers have several other benefits. They're quieter than gas-powered tools. The smell of gas won't interfere with your enjoyment of the lovely autumn leaf smell. They're typically lighter and easier to manage than gas-powered tools. Since they don't use filters, gas, and oil, they require less maintenance.
If you're concerned about performance, take a note from Misha Kollontai, the Consumer Reports engineer who oversees testing for outdoor power equipment: "Every year we test more battery tools, and every year we find fewer reasons to recommend buying gas tools."
Electric leaf blowers also have the benefit of many uses. You can use your leaf blower to sweep your garage floor, clear up cobwebs, or clean out your rain gutters. Fall cleanup can be a lot better, for you and for Utah's air shed, when you switch to an electric leaf blower.